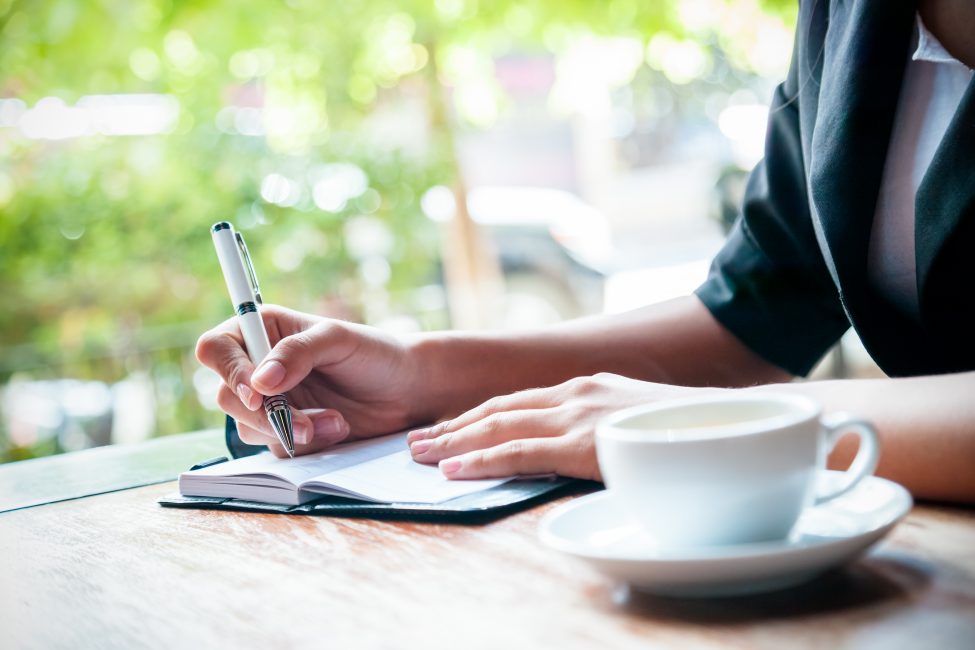 The Bullet Journal: An Effective Tool to Organize Your Life
It's easy to worry about the past and the future while forgetting the present. And yet, the past has led us to the present and our present will lead us to the future. As the days go on, it seems in many cases that we will never fully be able to track time in a way where our past or future is advantageous to our present. Ryder Carroll, the creator of The Bullet Journal Method, crushed this problem and uses time to our benefit without creating a time machine. Carroll's motto in his new book The Bullet Journal Method states: "Track the Past, Order the Present, and Design the Future." With the bullet journal method, time can be ordered and tracked simply to make life more manageable. We have tried it, and here is what we have learned.
The Practice
The great thing about The Bullet Journal Method is that it is simple, flexible, and inexpensive.
All you need is a journal and a pen, and you are ready to start organizing your life! The Bullet Journal Method is broken up into four core parts:
THE INDEX
In the first few pages of the journal, you will create your index. The index looks something like what you would see in any novel, encyclopedia, or textbook. This is where you can record and track where information is located in the journal.
THE FUTURE LOG
After leaving a few pages for the index, reserve some pages for your future log. Break each page into three sections, titling each with a month. For example, if you started your journal in October, you would title your first section with the title "October" and then move onto "November" and "December." You can take your future log as far as you want to go. Some prefer to make a six-month plan while others prefer a one-year plan. After writing each month, write the number of days for each of those months. Then, label goals and tasks with bullet points (•) and circles (o) as events that are to be accomplished that month. You will be able to refer back to these goals, tasks, and events during your daily logs. The best thing about the bullet journal is that you can change it up to fit you. Many people have designed their future log differently to fit their personality and interests.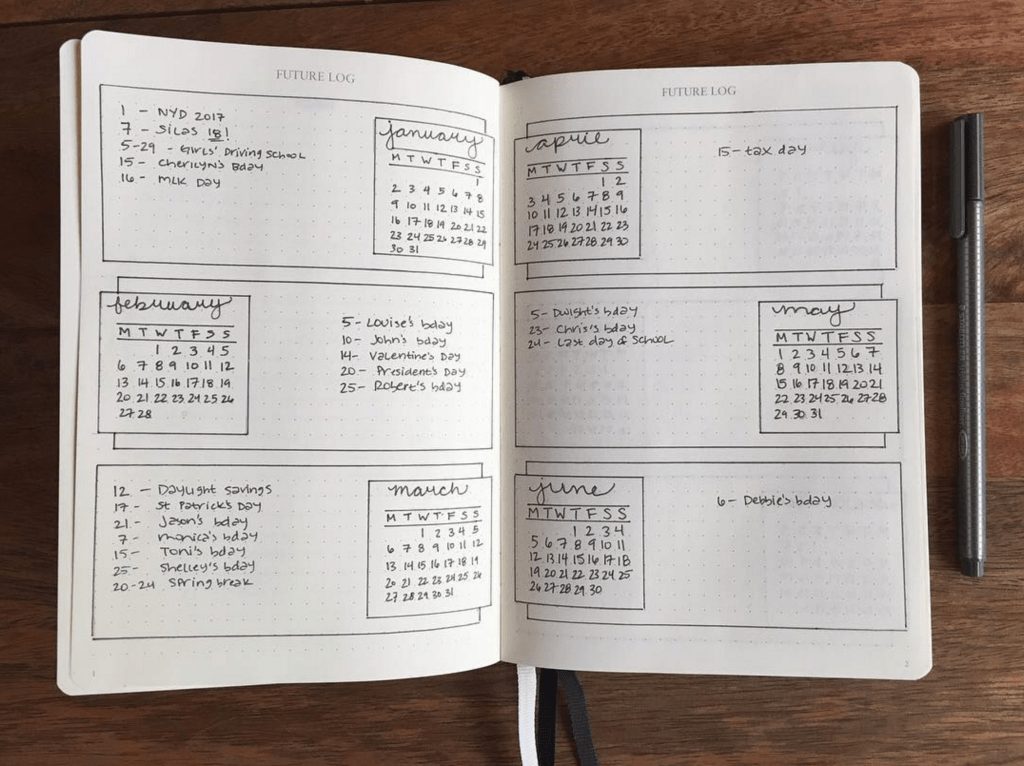 THE DAILY LOG
Once you have made your monthly goals, events, and tasks, you can then set aside pages to record in your index for your daily log. Each day, title the page with the date and day of the week. Then write down your tasks with bullets (•), notes with dashes (-), and events with circles (o). Your daily log will be flexible as your day gets shifted around. Once you complete a task or event, put an "x" on the bullet or circle. If by the end of the day you were not able to complete that event, decide whether or not if you want to complete it in the future. If you don't want to complete it in the future, cross out the event, bullet, or note. If you want to complete it in a future month or day use the less-than symbol (<) and add it to your future log for that particular month or add it to another day.
COLLECTIONS
After you have completed your Index, Future Log, and Daily Log, it's time to track and collect other particulars that matter in your life. These other logs or tracking systems are called Collections. Collections can range from tracking anxiety and depression to collecting fun quotes on Pinterest and creating meal plans. Set aside pages for each collection and add it to your index. Then, use the same same symbols such as bullets, notes, and events and others you may create to log your thoughts and ideas.
Conclusion
We can talk about how this method has changed our lives, but it is up to you to discover its magic for yourself. And it isn't hard to see how it can be used to improve your overall health, whether it's healthier diet goals or an exercise plan. The Bullet Journal Method has been designed to structure your life in the simplest way so you can apply it with the most flexibility. It's as human of a system as you are. Therefore, you will always have the journal to help you where you are and not judge you on where you should be. So, give it a try!
The information provided is for general interest only and should not be misconstrued as a diagnosis, prognosis or treatment recommendation. This information does not in any way constitute the practice of medicine, or any other health care profession. Readers are directed to consult their health care provider regarding their specific health situation. Marque Medical is not liable for any action taken by a reader based upon this information.