At Marque Medical, we offer pediatric services for patients when they cannot get in to see their primary care physician. We work with your physician to establish seamless communication and get patients back to their medical homes for continuity of care. Our Mission Viejo and Buena Park clinics have CHOC Children's Pediatricians available after 2 pm on the weekdays and after 12 pm on the weekends. If you prefer to see a CHOC Children's Doctor in the comfort of your home, we offer virtual pediatric visits 7 days a week.
About the CHOC Children's and Marque Medical Partnership
Marque Medical is pleased to announce its partnership with CHOC Children's. Marque will provide after-hour pediatric urgent care in Orange County to families needing to see a CHOC Children's provider. Pediatric services will be offered in-person at our Mission Viejo and Buena Park clinics after 2 pm on weekdays and after 12 pm on weekends. We will be working closely with family pediatricians in our community to ensure patients are returned to their medical home, and there is seamless communication between Marque and your family's pediatrician.
The Program is led by Dr. Jyotsna Keni, a pediatric endocrinologist and on staff at CHOC Children's in Orange County. She received her medical degree from St. George's University School of Medicine and has been in practice for over 10 years. She brings with her the CHOC Children's best practices for medical care and an amazing team of other CHOC Children's pediatricians. Our collective mission is to support the many primary care practices in the area that require quality, convenient after-hour pediatric care for their patients.
Dr. Keni and her team are part of the Marque Medical Family, and we are honored to have an esteemed partner in CHOC Children's.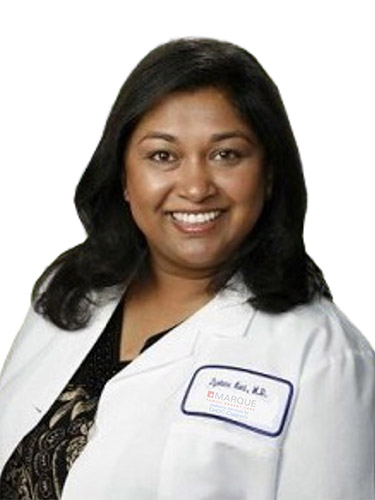 Frequently Asked Questions
What clinics are CHOC Children's pediatricians located at?
CHOC Children's pediatricians are located at our clinic located in Mission Viejo and Buena Park clinic. They are available for in-person visits daily from 2 pm to close. You can also see a CHOC Children's pediatrician virtually from the comfort of your home. Virtual visits are available 7 days a week. All Marque clinicians are trained in caring for and treating a minor, so if a pediatrician isn't available during your time of need, we will be able to still care for your child. CHOC Children's pediatricians will soon be at more clinics.
What if my child needs a prescription?
Marque Virtual Pediatrician