Marque HeadStrong Brainscope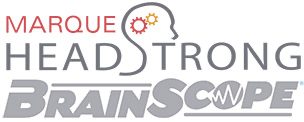 FAST, OBJECTIVE ASSESSMENT AT THE POINT OF CARE.
The BrainScope® One device lets us objectively assess the full spectrum of brain injury, including concussions, by measuring and interpreting your brain electrical activity and neurocognitive function—right at the clinic. It's the future of assessing brain injuries and unlike anything else available today.
BrainScope® One was commissioned by the U.S. Department of Defense, the NFL/GE, Johns Hopkins, and the NYU School of Medicine.
FDA-cleared
Radiation free
Accurate and objective
Non-invasive
Fast and efficient
WHY HEADSTRONG?
Our mission is to increase access to physicians and resources that are trained in the evaluation and management of concussions. We are experts in the field and the first stop to a full, speedy recovery. HeadStrong provides patients immediate access to innovative medical technology and resources right in your neighborhood.
A DEVOTION TO PROVIDING EXPERT CARE
We have a dedicated team that helps coordinate the recovery progression and manages referrals to appropriate specialists when continued post-concussion symptoms exist. HeadStrong has an established network of highly regarded resources, ensuring that our patients are given the best care possible throughout the treatment process.
WHAT TO EXPECT FROM A MARQUE VISIT
When you visit Marque HeadStrong, you will be given a systematic and thorough evaluation based on industry-leading guidelines and research. Depending on the severity of the TBI, the Marque physician will establish a course of treatment that is appropriate and necessary for a full recovery. If necessary, the physician will refer and coordinate care with a specialist in the area. Patients are given information at each visit to take home and review, and we will share and communicate to interested parties any information that is critical to the recovery process.
GET BACK TO YOUR EVERYDAY LIFE
"Put me back in the game coach!" The proper treatment of a TBI can be a complicated process. HeadStrong works with individuals, parents, coaches, athletic trainers, and organizations to ensure full recovery prior to re-entering participation in the classroom, playing field, or work environment. We follow established Return-to-Learn (RTL) and Return-to-Play (RTP) protocols with specific milestones and guidelines so that the patient can get back to doing the things they love, safely.
Return to Learn, Work, and Play