Crocheting and Knitting to Good Health by Michelle Muse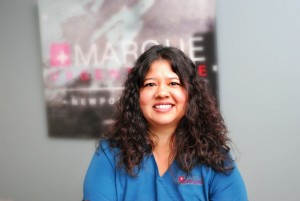 I recently took up crocheting as hobby and find this to be very relaxing.  I read that crocheting and knitting have health benefits, which is an added bonus.
Although it seemed intimidating at first, after several attempts of basic loops and yarn over, I have mastered simple crocheting.  Now I can't stop… I am hooked (pun intended)!  I have made everyone in my family scarves, beanies, and booties.  I even surprise my staff with crocheted gifts.
Studies have shown that the repetitive action of crocheting or knitting help to manage stress, anxiety, depression, and it is therapeutic for those who suffer long-term pain management.  This repetitive motion improves your dexterity and creates a wonderful feeling of accomplishment.  Research indicates that crocheting and knitting also produces positive results for patients who suffer from Alzheimer's disease and dementia.  Over time, this can strengthen our immune system and decrease memory loss. Furthermore, when I have a food craving I can pull out my crochet needle and try something new.  Before long, the cravings are gone!  Crocheting or knitting easily takes your mind off of work and everyday stress.  You feel a deeper connection as you let your fingers to their thing. 
I have read that the action of crocheting or knitting actually changes brain chemistry by decreasing stress hormones and increasing feel-good serotonin and dopamine.  Many experts believe that crocheting or knitting activates the same areas in the brain as meditation and yoga.
Crocheting can also be a bonding time with family and young kids by teaching them your talents or exchanging ideas and patterns.  There are even social groups that get together to knit or crochet.  I have taught my 9 year old daughter the basics of crocheting and she loves it too.  She likes to show off her talents at school and I believe this has improved her level of confidence and patience.
In life, you don't often see the results of hard work, but with crocheting or knitting you reap a tangible reward for your effort!  Taking time out for yourself is the best thing you can do.  I find that I am more relaxed and myself by the end of the night and that's a plus for everyone…
The information provided is for general interest only and should not be misconstrued as a diagnosis, prognosis or treatment recommendation. This information does not in any way constitute the practice of medicine, or any other health care profession. Readers are directed to consult their health care provider regarding their specific health situation. Marque Medical is not liable for any action taken by a reader based upon this information.