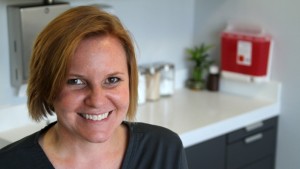 It is chili season!  I really like this recipe because it is not only great tasting, but also nutritious and easy to make.  Enjoy!
Ingredients
(3) 15 oz. cans of black beans (with jalapenos if you can find them) or plain
(3) 15 oz. cans of pinto beans with cumin and onions or with jalapenos (preferably with flavor)
(1) 26 oz. can of kidney beans
(1) 15 oz. can of chili beans in sauce
(1) 15 oz. can of diced tomatoes with jalapenos
(1) 15 oz. can of diced tomatoes with green chilies
(1-2) mini cans of Spicy V8 juice
 4 T of chili powder
1 tsp. cumin
cayenne pepper (to taste)
1 large onion
1 large green pepper
1 clove garlic
1 package of veggie protein crumbles (or you can use ground turkey or other meat)
Directions
Drain and rinse the beans and put them in a crock pot.   Mince the garlic, dice the onion and green pepper and add along with the tomatoes.  Next add the chili powder and cayenne pepper (use as much pepper as you would like but I recommend starting small, and then you can always add more).  If you are going to use real meat, then brown it with the garlic and some chili powder for extra flavor and then drain.  Add it to the mixture.  Shake a mini can of Spicy V8 and add to the mixture until you like the thickness.  If you like your chili really thick then 2 cans is usually good.  If you like it a little soupy then add 3 and so on.  If you are using the protein crumbles, then put everything in the crock pot for about 4-6 hours first and then add the crumbles about an hour before you want to serve.
If you don't have a crock pot you can make it on the stove as well and simmer it for an hour.  The longer the flavors mesh together, the better it tastes!  This recipe makes approximately 10 servings. You can also cut back on the ingredients to make a smaller batch.  It's a really easy recipe to play with.  Bon appétit!