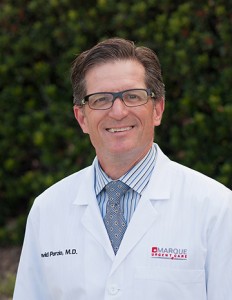 Hospital Associated Infections (HAIs) by David G. Porzio, M.D.
Recent statistics show that 75,000 people are killed annually by hospital-acquired infections.  Bacteria, fungi, and viruses can lurk in many places ranging from bed linens to catheters to even a doctor's necktie.  A visit to the hospital can be quite daunting knowing these facts.  Information about the rates of infection is available through  the Department of Public Health website called My Hospital 411. It provides an infections map which shows how hospitals compare to national averages. This site also offers links with detailed information about healthcare associated infections (HAIs).  You may think twice about visiting your local hospital because HAIs are a real issue.
One way to avoid a trip to the hospital (and the risk of acquiring an HAI) is to visit an urgent care if it's not a life-threatening health issue.  Urgent care centers offer many of the same services as an ER, and can even be an alternative to your primary care physician when you need to be seen immediately.  Consider if you need stitches or possibly an X-ray.  Are you dealing with a small bump, cut, or scrape? Do you have a cough, sore throat, sinus pain, minor fever, cold, or rash?  These conditions are troublesome, but they may not require immediate attention.  It is vital to consider the seriousness of the problem, because an urgent care can treat such ailments faster than an emergency room, at a lesser cost, plus you are less likely to catch an HAI.
Again, when choosing a facility to tend to your medical needs, examine the severity of the situation.  If your instinct is to immediately go to the ER, then go to the ER, but remember less severe symptoms can conveniently be treated at an urgent care.  If in doubt and need further assistance, contact a health care provider, 24-7 Nurse Help-Line, or the front desk of a medical facility.
Source: http://www.ocregister.com/articles/infections-640258-hospital-infection.html
The information provided is for general interest only and should not be misconstrued as a diagnosis, prognosis or treatment recommendation. This information does not in any way constitute the practice of medicine, or any other health care profession. Readers are directed to consult their health care provider regarding their specific health situation. Marque Medical is not liable for any action taken by a reader based upon this information.