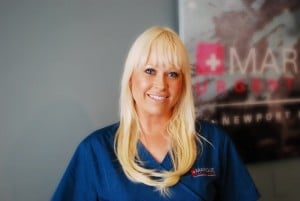 Lemon Cream Pie – A summertime treat that's both delicious and guilt free!
If you're looking for a healthier version of this summertime classic, look no further! This recipe is sure to please. It calls for nonfat buttermilk, reduced-calorie margarine, egg substitute, reduced-calorie whipped topping, and low-fat graham crackers.
Time: Prep  11 minutes;  Cook  16 minutes;  Chill 2 hours
1 cup low-fat cinnamon graham cracker crumbs (about 7 crackers)
¼ cup reduced-calorie margarine, melted
¾ cup sugar
¼ cup plus 3 tablespoons cornstarch
1/8 teaspoon salt
1 cup water
2/3 cup nonfat buttermilk
½ cup fat-free egg substitute
2 teaspoons grated lemon rind
½ cup fresh lemon juice
2 ½ cups frozen reduced-calorie whipped topping, thawed
Lemon zest (optional)
Lemon rind curls (optional)
Fresh mint sprigs (optional)
Combine cracker crumbs and margarine; stir well. Press into bottom and up sides of a 9-inch pie plate. Bake at 350

˚

for 8 to 10 minutes or until golden. Remove from oven; let cool on a wire rack.

Combine sugar, cornstarch, and salt in a saucepan; gradually stir in water and buttermilk. Cook over medium heat, stirring constantly, until mixture comes to a boil. Cook 1 minute.

Gradually

stir about one-fourth of hot mixture into egg substitute; add egg substitute mixture to remaining hot mixture, stirring constantly. Cook over medium heat, stirring constantly, 2 minutes or until thickened. Remove from heat; stir in 2 teaspoons lemon rind and lemon juice.

Spoon lemon mixture into prepared crust. Cover; chill at least 2 hours. Spread whipped topping over filing just before serving. If desired, garnish with lemon zest, lemon rind curls, and fresh mint sprigs.

 Yield: 8 servings.
Per serving:
Calories  251
Carbohydrates   46.4g
Protein  4.1g
Fat  7.2g
Fiber  0.6g
Cholesterol  1mg
Sodium  175mg
Calcium  47mg