Marque Urgent Care Santa Margarita Celebrates a Successful 6 Months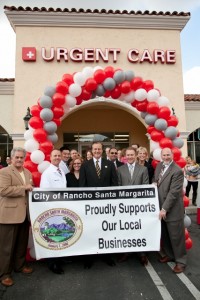 The Needs of the Local Community and Businesses are Fulfilled by New Urgent Care Facility
Marque Urgent Care recently celebrated 6 months of success at their new location in Rancho Santa Margarita.  There was a need for high quality healthcare in the area and Marque quickly has become a go-to clinic for immediate walk-in care and emergencies.  Previously known as Newport Walk-In Medical Group, which served the Orange County community for over 30 years, Marque continues the tradition of unsurpassed medical care in Rancho Santa Margarita.  The 5,000+ square foot facility is a state-of-the-art clinic that incorporates modern technology with top-notch physicians. Marque Urgent Care offers walk-in care and family wellness, along with an advanced occupational medicine program.  Wait times are usually short and patients can even register online.
"People are always comment­ing on the look and feel of the fa­cility," says Pierre Bergougnan, CEO of Marque Urgent Care. "It's a combination of having exceptional doctors, being visually appealing, finding the best sup­port staff, and elevating the level of patient care throughout all levels of the organization. Many patients expect that the physi­cian will be good.  But people don't expect to be treated with such personalized attention and care."  Marque Urgent Care strives to make the patient's overall experience comfortable and meaningful in the shortest amount of time possible.  The 98.6% positive patient feedback, which Marque receives for patient surveys, reflects the clinic's high standard of excellence.  Teri Fischer, a local resident states, "The staff and doctors at Marque Medical are beyond outstanding. The service, timeliness and professionalism for me during my visit will make me return for my future medical needs."
Marque has received a warm welcome by local residents and businesses in the Rancho Santa Margarita area.  It is important to the culture of the clinic to be tightly integrated within the community, and they are actively involved in local fund-raising programs and events. For example, Marque was pleased to be the first aid station at Ranchofest in Rancho Santa Margarita.  Additionally, they were a proud sponsor of the Tijeras Creek Little League, the 8th Annual Kids Konnected Golf Tournament at Dove Canyon Country Club, and the Alzheimer's Walk in Rancho Santa Margarita. Marque Urgent Care looks forward to a long-standing relationship with the terrific community of Rancho Santa Margarita.