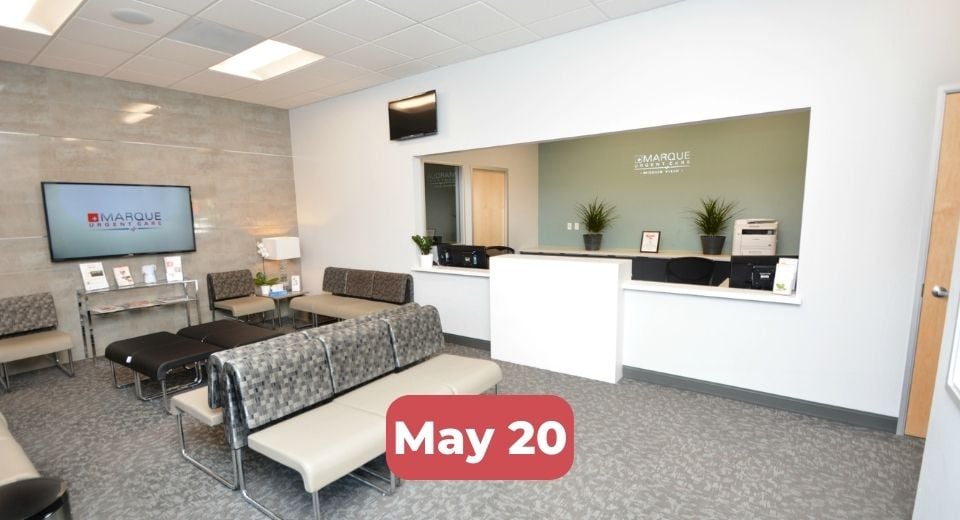 May: Urgent Care Awareness Month
The Urgent Care Association (UCA) has declared May as Urgent Care Awareness Month. Marque Urgent Care welcomes the community and its neighbors to learn more about how urgent care can benefit their health and lives, to celebrate the exceptional contributions of clinicians and professionals, and to bring awareness to our vital industry.
The urgent care industry has continued to expand across the country, and the next many years will open new opportunities for quality operators. According to the most recent UCA Benchmarking report, there are more than 9,600 centers serving communities nationwide. These centers are helping to meet the needs of consumers on their schedules, while alleviating overcrowding in emergency rooms. This is especially important during the current global pandemic, as urgent care centers stand posed to assist their communities during these unprecedented times. Urgent care clinics like Marque serve an essential role in freeing up emergency rooms and have been the backbone in keeping the healthcare industry afloat, specifically over the last few years.
With the continued growth of the industry, one thing is clear: consumers demand the convenience of immediate access to high-quality care and an expanded scope of services, such as vaccines and testing.
But there are many patients that are still not aware of how urgent care clinics can be useful for a wide variety of common medical needs. This has compelled the UCA to declare May as a month of awareness and education.
"Urgent care facilities are a great alternative to the emergency room for non-life-threatening illnesses and injuries. We work closely with our medical community to support patients who need access to care but may not be able to see their primary care physician on short notice, or have ailments that need immediate attention," according to Pierre Bergougnan, CEO at Marque Medical (Marque Urgent Care). "We must always be there for our patients and deliver a compelling medical service so that people can get back to their everyday lives, fast."
Urgent care facilities are an ideal choice for medical situations such as sprains, broken bones, flu-like symptoms, colds, and other common illnesses. Facilities are staffed by experienced doctors and support personnel who all contribute to the overall outcome.
With Urgent Care Awareness Month, Marque Urgent Care aims to educate consumers – and others in the healthcare industry – about the importance of urgent care in the healthcare spectrum.
About Marque Urgent Care
Southern California's premier locally-owned and operated urgent care has locations throughout the counties of San Diego, Riverside, Los Angeles, and Orange County including Newport Beach, Aliso Viejo, Mission Viejo, Buena Park, Rancho Santa Margarita, and Lake Forest (May 2022). With full time physician oversight, on-site digital X-Ray, on-site lab testing and procedure rooms, Marque Urgent Care can evaluate and treat many conditions on a walk-in basis or by online reservation. Along with general primary care and urgent care services, they can treat sport injuries, can provide laceration repair, conduct EKGs, and offer concussion evaluation and management. The clinics employ family physicians, pediatric physicians, emergency room physicians, cardiologists, surgeons, internists, doctors of osteopathy, and advanced practice providers. These services are performed under the guidance of our Medical Director, David Porzio, M.D., F.A.A.C.
Services include:
Walk-In Adult and Pediatric Urgent Care
Sports Medicine
Concussion Management
Heart Health
Virtual Medicine
Well-being
We are open 7 days a week, including weekends and most major holidays. We accept most major PPO plans and select HMO insurance plans. We offer walk-ins and online reservations.
We have a large virtual medicine platform that can see patients if they are not able to make it to the clinic or have more basic medical needs such as prescription refills and common ailments.
Marque Urgent Care also has a distinctive partnership with Children's Hospital of Orange County (CHOC) with CHOC Pediatricians on-site at select Orange County facilities. CHOC physicians are also available to see patients for virtual consultations 7 days a week from the comfort of home.
About the Urgent Care Association
The Urgent Care Association (UCA) is a membership association of leaders, providers, and suppliers in the field of on-demand, consumer-focused healthcare. UCA advances the industry and supports member success through advocacy, research, education, collaboration, and high standards of care. The association maintains an active online presence and member community for daily exchange of best practices. For more information visit www.ucaoa.org.