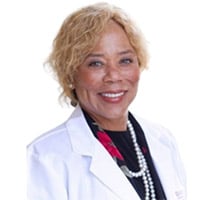 Contact Info
Dorcas Eaves, MD
Medical Doctor
After graduating from Boston University School of Medicine, Dr. Eaves came to the West Coast to do her surgical training at the University of California, Irvine, California College of Medicine combined university program that included training at multiple institutions of medicine to include UCI medical Center, Long Beach VA Medical Center, St. Joseph's Hospital and the City of Hope. She completed a 5-year surgical residency program and was Chief Resident in surgery in her last year. She was then invited onto the faculty and rose to the position of Associate Clinical Professor of Surgery before she retired from the university.
However, her crazy on-call schedule and commitment to excellence did not stop there. She joined the military in 1986 as a reserve officer after seeing one of her mentors at a Grand Rounds in Surgery and thus started a parallel career. She rose through the ranks from Captain to Colonel in the Medical Corps of US Army, commanded Combat Support Hospital of 800 soldiers and has deployed to the Middle East as a combat surgeon on multiple missions. She is also a graduate of the prestigious highly selective Army War College that accepts only the top 1% of military officers. She retired from the military January 1, 2011.
Not to remain idle, she has worked many Locum's medical and surgical assignments, before joining the Marque team, with Staff Care and the Department of Corrections at multiple Facilities to include but not limited to Pelican Bay and San Quentin. Dr. Eaves has also worked in the Corporate arena as Corporate Medical Director over 5 offices with CaPPCare Inc.
Dr. Eaves has received multiple awards for medical excellence and has been included in several Who's Who publications. She is a member of the American Association for Physician Leadership, the Academy of Political Science, the American College of Quality Assurance to name but a few. She is a contributor to American Heart Association and the American Cancer Association.
Personal Summary
In her leisure time she loves spending time with and spoiling her 7-year-old grandson, still loves physical fitness running on her home treadmill, enjoys reading and watching Science Fiction and loves spending time with her family. In fact, she's on weekly Zoom calls with family members keeping them apprised of the current healthcare crisis in the US.