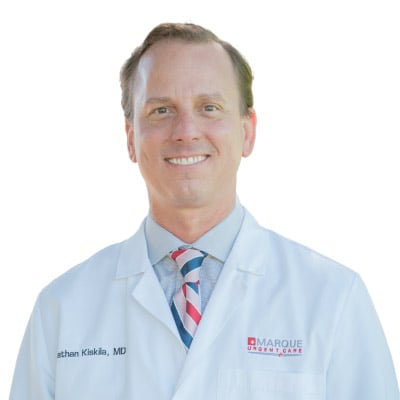 Contact Info
Nathan Kiskila, MD
Medical Doctor
Dr. Kiskila is the President of Marque Medical, a medical services company specializing in delivering high-quality urgent care medicine. He's a board-certified medical doctor, specializing in family practice. Dr. Kiskila was born and raised in Southern California and got his BA from the University of California, Davis. He then went to medical school at the University Autonoma of Guadalajara and had his first internship at the New York Medical College. He completed his residency at the University of Louisville and decided to move back to California to help start Marque Medical in 2010.
Since 2010, Dr. Kiskila has not only helped grow Marque Medical, but developed a state-of-the-art virtual health platform, TeleMarque. TeleMarque uses advanced diagnostic equipment not readily available at most doctor offices and its technology is currently being used at all Marque Medical clinics. Dr. Kiskila is actively involved with the hiring and training of new and existing Marque providers and is passionate about mentoring up and coming doctors. He serves as a leader and mentor to his medical staff and is always finding ways to better his patients health and well-being.
Personal Summary
He currently sits as the chair of the networking committee for the California Urgent Care Association. Dr. Kiskila is a California native and resides in Corona del Mar, CA. He enjoys going to the beach and riding his Harley Davidson.