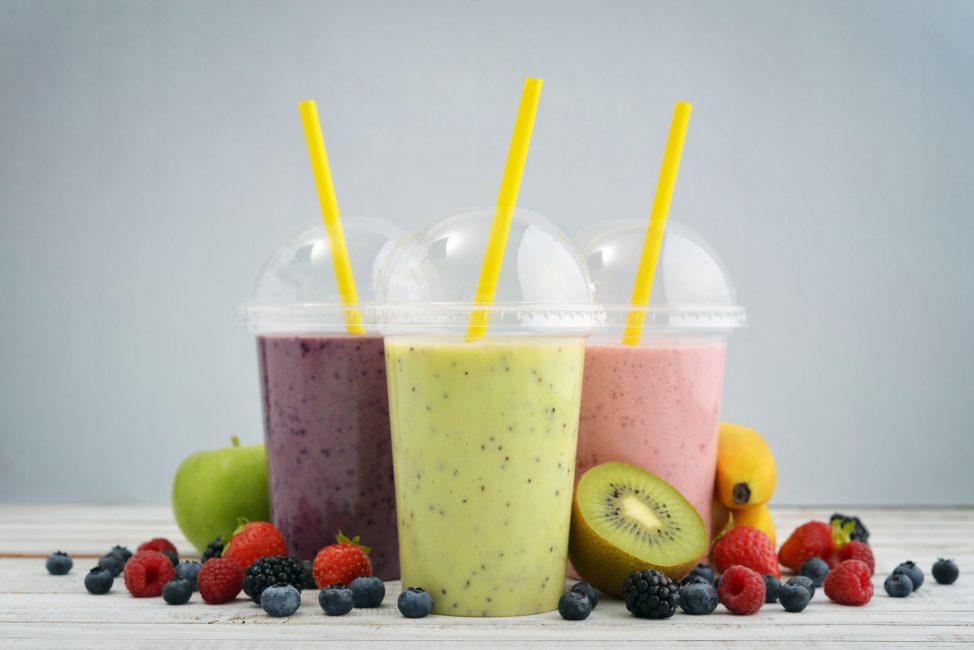 Smoothies are your AM secret weapon. They're a quick, easy, and versatile vice for clean eating, better digestion, and energy on the go. Just a glass packs those extra fruits, veggies, and vitamins to kickstart a productive day the right way. Best of all, they taste so good, you'll forget it's healthy. Blend your breakfast and sneak nutrition into your morning better than you'd sneak food into a movie theater!
No two smoothies have to taste the same. Of course, unless you concoct a favorite! With so many fruits, veggies, and flavor options, you'll never get bored. Ready to jump start, but not sure where to start? Master this formula and you'll be the master of smoothies. By using this guide, you can create flavors and nutrition catered perfectly to your needs and taste!
Check out these 10 recipes that will result in a perfect smoothie every morning!
Foolproof Formula
Making the perfect smoothie can be easy. If you are unsure of what to put in your smoothie, try this foolproof formula:
Liquid + greens + fruit + protein + nutrition boost + sweetener + ice = perfect jump start smoothie
LIQUIDS
GREENS
FRUIT
PROTEIN
NUTRITION BOOST
SWEETENER

(up to 1 cup)

Water

Coconut water

Coconut milk

Milk

Almond milk

Coffee

Tea

Juice

(a couple handfuls)

Kale

Spinach

Parsley

Chard

(fresh or frozen-load up!)

Apples

Bananas

Berries

Cherries

Kiwi

Melon

Mangoes

Oranges

Peaches

Pears

Pineapple

Plums

(2 TB)

A scoop of protein powder

Greek yogurt

Kefir

Peanut butter

Almond butter

Cottage cheese

(to taste)

Chia seeds

Flax seeds

Hemp seeds

Pumpkin seeds

Oats

Cinnamon

Mint

Basil

Ginger

Vitamin powder

Cacao

(sweeten to taste)

Pure vanilla extract

Honey

Coconut

Dates
Smoothie Recipes 
Need some inspiration? Here are 10 recipes packed with natural, energizing nutrition. Drink to that!
Protein Machine
Building some muscle? Bulk up or stay lean with this rich, filling, protein smoothie
Milk
Spinach
1 banana
1 scoop protein powder
2 T greek yogurt
1 T peanut butter
2 T pumpkin seeds
¼ tsp vanilla
Ice
Low-cal
Cut calories without cutting taste! Since berries are so nutrition-dense and chia seeds expand, this smoothie makes for the perfect light but filling meal.
Almond milk
Kale
Strawberries
Raspberries
2 T Kefir
2 T chia seeds
Basil leaf
1 date
Ice
Dairy-free Energy
A cold, refreshing mocha drink with no animal byproducts required!
Cold coffee
Almond milk
chard
1 frozen banana
1 scoop soy chocolate protein powder
½ tsp vanilla
(sweeten to taste with dates)
Ice
Paleo
Try this wholesome, paleo-friendly and dairy-free delight
Herbal tea
Parsley
½ banana
Blueberries
Small handful of almonds
Ice
(coconut and mint for garnish)
Peaches & Dream
The perfect Summer-Fall transition treat
Coconut milk
Spinach
Frozen peaches
2 T greek yogurt
Pinch of cinnamon
Coconut
¼ tsp vanilla
Ice
Lean Chocolate Shake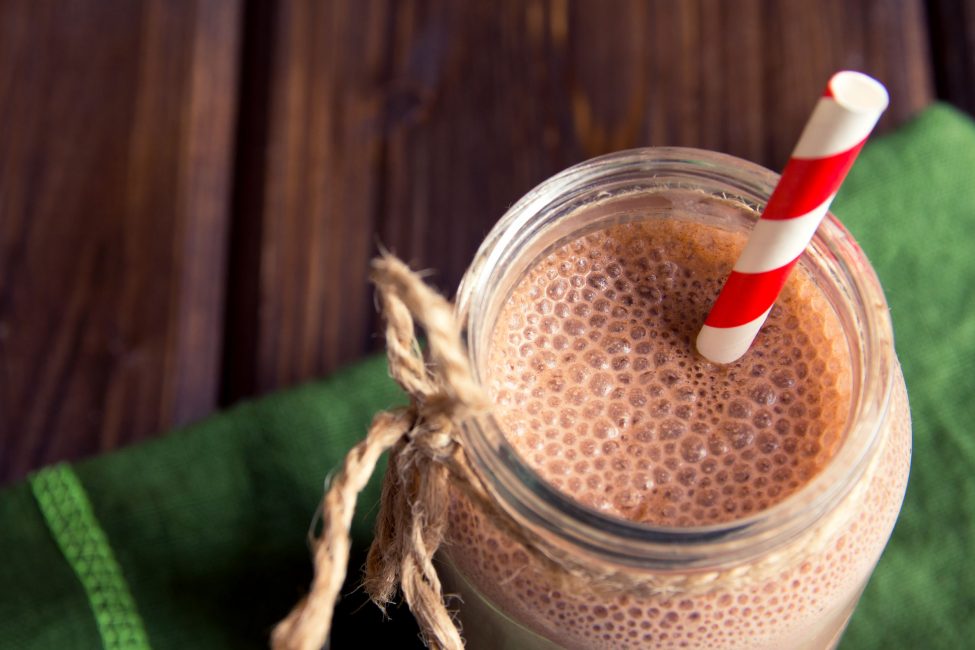 Avoid the drive-thru! Try this take on the classic chocolate shake.
Milk
1 frozen banana
1 scoop chocolate protein powder
1 T flax seeds
Dash of cacao
¼ tsp vanilla
The Unexpected
Don't knock it 'til you try it.
Almond milk
Spinach
1 frozen banana
½ avocado
2 TB cottage cheese
1 T honey
Ice
Piña Kale-lada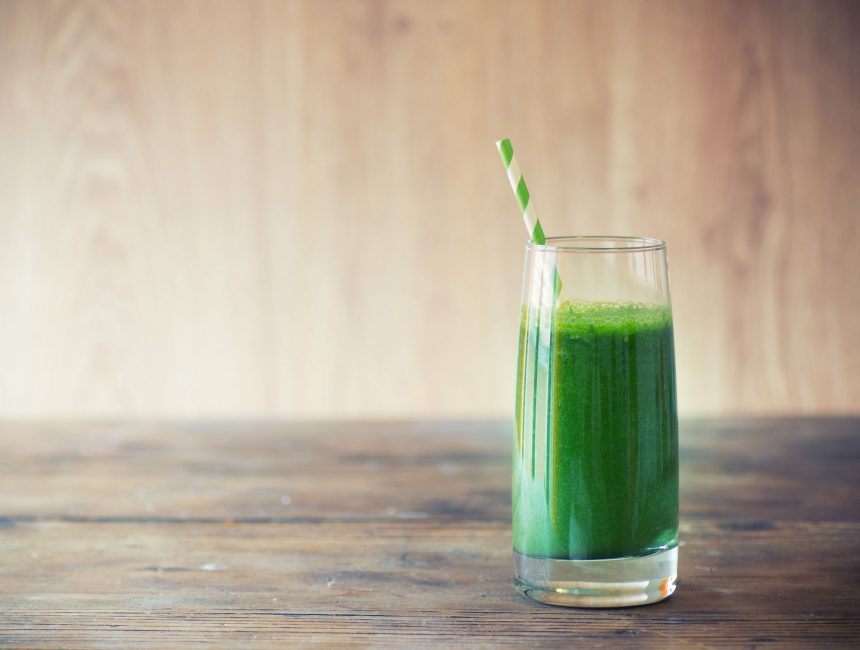 Creamy coconut and refreshing pineapple.
Oh, HEALTH yeah.
Coconut milk
Kale
Pineapple
2 TB coconut
¼ tsp vanilla
Ice
Cinnamon Roll
Curb those cravings with this sweet treat, perfect for breakfast or dessert!
Milk (any kind)
1 frozen banana
½ scoop vanilla protein powder
1 T almond butter
2 T rolled oats
½ tsp vanilla
Cinnamon
2 dates
(optional: pecans)
Kid-friendly
They'll never know they just drank spinach.
Orange juice
Spinach
Strawberries
Mangoes
2 T greek yogurt
Vitamin powder
Ice