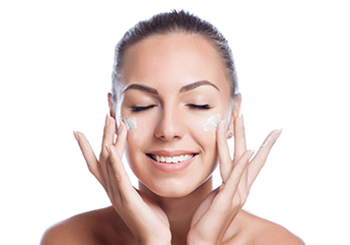 If you have dry skin, don't stress  because there are easy ways to help your skin retain moisture. Here are 10 skin care tips that will keep your skin healthy and moist this season:
Tip #1- MOISTURIZE, MOISTURIZE, MOISTURIZE
If you are still using your spring/summer moisturizers and your face or skin feels tight after washing, you may need to switch things up a bit. Try a heavier preparation instead. Look for oil based products, or even the word night cream.  Oil based moisturizers form a protective layer over the skin giving you more moisture than a cream or lotion. Look for avocado, mineral, primrose or almond oil as those do not clog pores.
Tip #2- HUMIDIFIER

Invest in a humidifier, and use daily. This is one of the best ways to combat itchy, dry skin. In my family, we bring ours out every winter because the central heat or portable space heaters can be so drying on the skin. If you don't own a humidifier and suffer with dry or itchy skin in the winter, this tip is a must for you! Placing a few small humidifiers throughout your home will make a big difference in the way your skin feels. Be sure to place them in the areas of your home you most frequently use.
Tip #3- WEAR SUNSCREEN
Even in the winter, it is still important to slather it on daily. Plus, extra moisture cannot hurt.
Tip #4- PAY SPECIAL ATTENTION TO HANDS
Wear gloves when going outside if it is especially cold, and invest in a pair of thin 100% cotton gloves to wear around the house and at bedtime. Choose a glycerin or petroleum based product, slather a generous layer on hands, and slip on your cotton gloves. Avoid excessive washing of your hands. If you do wash, reapply the product and slip the gloves back on your hands. Follow the same routine at night before bedtime. Your hands will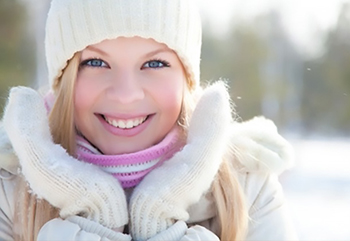 not be as likely to crack if you wear the gloves nightly.
Tip #5- AVOID WEARING OR STAYING IN WET GLOVES OR SOCKS
Tip #6- HYDRATION
Stay hydrated with water. It may not make a big difference in your skin, but drinking plenty of water is important for your overall health.
Tip #7- FOOT CARE
Pamper your feet. Use a glycerin or petroleum based lotion and apply a generous amount before bedtime. Cover with socks. Also, continue to exfoliate as you would in the summer time; sloughing off dead skin is important as it allows your moisturizer to penetrate better.
Tip #8- FACIAL CLEANSER

Change your face wash. Now is the time to switch to a milky or gentle facial cleanser these are much easier on the skin. Also, if you choose to use a toner, avoid ones with alcohol as these are drying to the skin.
Tip #9- AVOID LONG, HOT SHOWERS

Very hot water can break down lipid barriers in the skin, which can lead to moisture loss. Lukewarm or warm water is best, and keep the shower time to a minimum. After bathing, while skin is still damp, apply a good quality moisturizer to your skin to lock in as much moisture as possible.
Tip #10- DERMATOLOGIST
Seek the help of a dermatologist to find the right products for your skin needs.
The information provided is for general interest only and should not be misconstrued as a diagnosis, prognosis or treatment recommendation. This information does not in any way constitute the practice of medicine, or any other health care profession. Readers are directed to consult their health care provider regarding their specific health situation. Marque Medical is not liable for any action taken by a reader based upon this information.