Do it Yourself Snacks – 100 Calories or Less! By Your Marque Team
Need an energy-boost to get through the work day?  It's so easy to eat healthy when you have tasty snacks like these to choose from:
½ cup of slow churned ice cream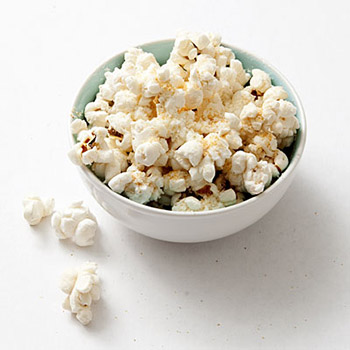 Who would have thought ice cream could be a healthy snack?  Look for slow or double churned because the process reduces fat and calories while retaining the creamy texture.  A ½ cup has just 100 calories plus protein and calcium.
6 cups microwave popcorn
When you want a large snack with a small calorie count, popcorn delivers. Only some brands will work though. Popcorn is high in fiber which will help you feel full longer.
Mini quesadilla
Sprinkle an ounce of grated low fat cheddar cheese over a corn tortilla. Fold it in half and microwave 20 seconds. It's a quick and tasty snack that has only 100 calories and 1.3 grams of saturated fat.
Cottage cheese and cantaloupe
Cottage cheese is a protein powerhouse with ½ cup delivering 14 grams. Protein will help you stay full longer. So go with a low carb cottage cheese with a fruit of your choice. A small wedge of cantaloupe brings the total calories to 100.
3 crackers with cheese
Whole grain crackers are the key to this snack. The fiber will keep you full, while the cheese provides calcium and protein. To stay under 100 calories cut up 1 slice of cheese and split it onto 3 crackers.
14 almonds
You can eat 14 almonds which are less than 100 calories. They're high in fiber and protein which will keep your hunger at bay. They are a great "stuck in traffic" snack.
6 whole grain pretzel sticks
This snack is cholesterol free, low in fat and sugar, and will provide you with approximately 3 grams of fiber.
Baked apple
Apples are still one of the healthiest snacks around. If you bake an apple it's a treat and is still rich in vitamins. You can even sprinkle cinnamon without the calories.
Blueberry smoothies
Try blending 1/3 cup of nonfat yogurt with 2/3 cup frozen blueberries and some ice. It's very refreshing and cold. That slows down your ability to drink quickly. Snacks that take more time to finish are often more satisfying.
1/3 cup of edamame
A 1/3 cup has more than 8 grams of protein and 4 grams of fiber. As a bonus you'll get nearly 10% of your recommended daily iron intake.
8 baby carrots with hummus
2 tablespoon of hummus will feed your craving.  Plus carrots are full of vitamins and nutrients.
Apple slices with peanut butter
Mixing sweet and salty is a great way to satisfy your munchies. Measure ¾ cup of apples and spread a thin layer of unsalted peanut butter on each slice. Don't use more than 2 teaspoons of peanut butter.
Half a baked potato with salsa
Microwave one half of a regular sized (not jumbo) baked potato for an easy snack that's loaded with vitamin C and not calories (80 calories to be exact). Keep the skin on it because it's packed with nutrients. Use a tablespoon of fresh salsa to spice things up without adding any extra calories.
Pistachios
Don't let the high fat content scare you! Eat 20 pistachios and you're only getting 80 calories!
Frozen banana pops
Slice several bananas in half and insert a popsicle stick. Dip each half in a half ounce of plain yogurt. Freeze and serve. Only 80 calories a pop!
1 cup of tomato soup
It's full of disease fighting nutrients but contains only 74 calories. Look for the low sodium tomato soup.  Not creamed!
1 cup of grapes
They are loaded with water which means a whole cup only has 62 calories. The water keeps you feeling full and hydrated.
Not so super snacks
Store bought 100 calorie packs are loaded with sugar and are low on nutrients. Creating your own snacks work for you by delivering protein, fiber and antioxidants.
The information provided is for general interest only and should not be misconstrued as a diagnosis, prognosis or treatment recommendation. This information does not in any way constitute the practice of medicine, or any other health care profession. Readers are directed to consult their health care provider regarding their specific health situation. Marque Medical is not liable for any action taken by a reader based upon this information.