Marque Urgent Care Santa Margarita Celebrates Its One-Year Anniversary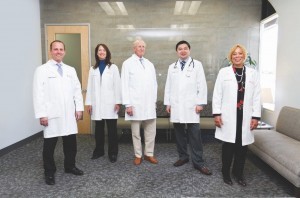 New Clinic Fills Void by Offering Quality Medical Care to Local Businesses and Residents
Marque Urgent Care recently celebrated one year of success at their new location in Rancho Santa Margarita.  There was a need for high-quality healthcare in the Rancho Santa Margarita area and Marque helped to fill that void.  Within one year, Marque has become a preferred clinic for immediate walk-in care and emergencies.  Marque Urgent Care (MUC), previously known as Newport Walk-In Medical Group, has served the community of Newport Beach for over 30 years.  Consistent with the Newport clinic, Marque in RSM provides the same premium health care with minimal wait time.
The 5,000+ square foot clinic is a high-tech facility with highly regarded physicians. Marque Urgent Care provides walk-in care and family wellness in addition to an advanced occupational medicine program.  The clinic's values are embedded in the belief that the each patient is their most valuable asset.  Marque's mantra is to provide the best medical care available in the shortest time possible.  Of the patients who visit a Marque facility, 98.6% rate their services as excellent according to Pierre Bergougnan, CEO of Marque Urgent Care.
Marque has received a warm welcome by local residents and businesses in the Rancho Santa Margarita area.  Richard Lu M.D., a MUC physician, states, "I have been with Marque for many years and I am excited to see our renowned services reach new communities.  The success of Marque in RSM is attributed to the consistent quality of care that we practice."  It is important to the culture of the clinic to be tightly integrated within the community.  Marque is actively involved in local fund-raising programs and events.  Marque will be the first aid station for the second consecutive year at Ranchofest 2013 in Rancho Santa Margarita.  Additionally, they are sponsoring the Tijeras Creek Little League for another season.  "We have been embraced by this community and we are thankful for your support.  We go out of our way for each and every patient and make sure their visit is meaningful.  We look forward to continuing our high level of service for years to come," Dr. Nathan Kiskila of Marque states.   Marque Urgent Care looks forward to a long-standing relationship with the terrific community of Rancho Santa Margarita and the surrounding areas.